If you're overwhelmed by the thought of changing your email address to Gmail this article is for you! You may have signed up for Gmail for whatever reason but continue using an old school email address such as AOL, Comcast, Hotmail or Yahoo. As a Google Trusted Photographer I spend most of my time talking about the benefits of Google Street View. But to better understand Street View we need to have a better understanding of the awesome ancillary services that surround it. Let's begin with Gmail and how to make Gmail your primary email address once and for all.
Why use Gmail?
I discovered Gmail 11 years ago. The features were compelling. For me it was Gmail's awesome spam filtering. At the time I was plagued by spam. My email provider could not keep up with the 600-800 spams I was receiving every day. Gmail instantly solved my spam nightmare. Plus Gmail provided gigs of free storage and top-notch security. Also having 11 years of archived email instantly searchable is quite remarkable. Gmail works so well I moved each of my companies' domain email servers to Google Apps accounts. The pièce de résistance is the ability to unify all of my email accounts under one Gmail account. That means I receive, send as and organize all five of my unique email identities using a single Gmail log in. This is easy to set up and I will post how do this in my next article. Let's get started with basic Gmail.
Moving to Gmail
First log in to your Gmail account and open the settings window. Click the "Account and Import" tab.
If you want to save your old email messages in Gmail follow the prompts under "Import mail and contacts."


You also have the option how you will continue to receive email from your legacy account. You can tell your current email provider to forward all email to your gmail account or you can add a POP3 email account to your Gmail. I prefer the forwarding method. To forward your email, log into your old email account. Under settings find the option to forward email. In this example I use the Hotmail/MSN now called Outlook account options settings.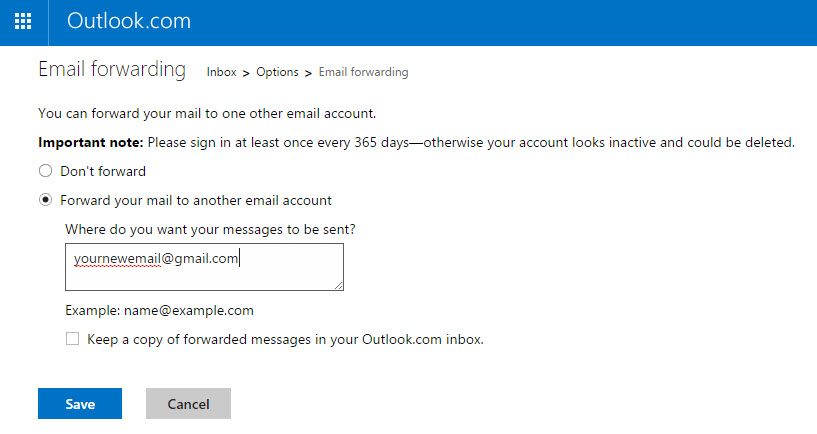 The last step is to inform your contacts that you have a new Gmail address. You can send out a blast telling them the good news but very few of your contacts will update their address book info on the first notification. Ugh! So I recommend setting up an auto reply message aka "Vacation Reply" with your legacy email account to remind the sender your email address has changed to Gmail.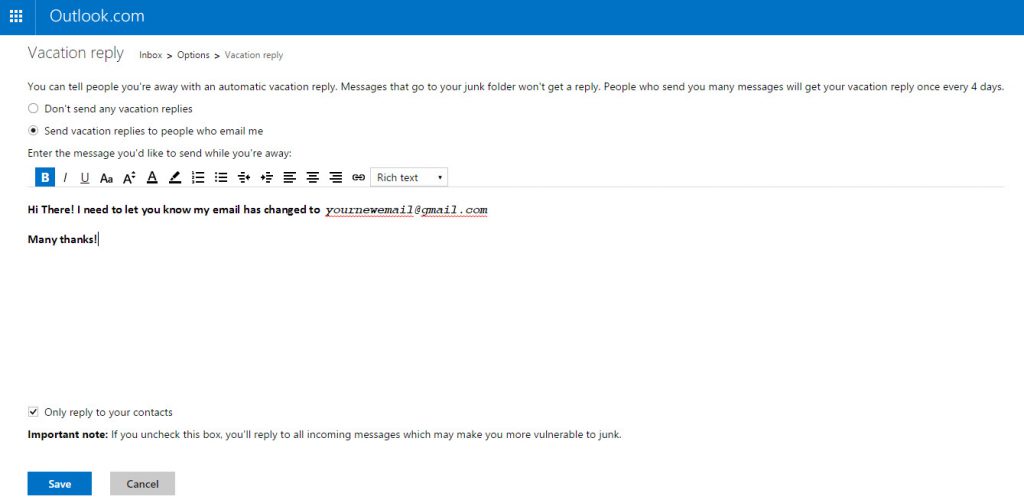 Gradually your contacts will grow tired of receiving this auto reply message and will update your new gmail address in their address book app.  Don't delete your legacy account too quickly. Give it some time. I recommend periodically logging into your legacy account to make sure the email forwarding and vacation reply are still active. These features may time out if you don't login to your legacy account from time to time. I used Outlook as an example. Your legacy email provider may have different options and settings to do the same thing. Please leave a comment if this Gmail tip works for you. Also leave a comment if you have an additional Gmail tip to share.  I welcome all comments. Happy Gmailing!