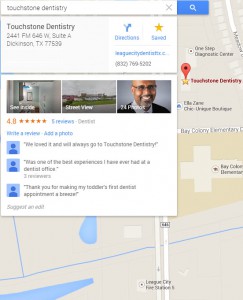 Businesses pinned on Google Maps with a See Inside 360 tour stand out in local search. See Inside virtual tours invite customers inside your business to look around and experience the ambiance, decor and amenities from the comfort of their easychair. Google Virtual Tours are found in Search, Google+, Google Maps. The 360 pano tours  and can be used on your Facebook page and your website. See Inside virtual tours gives customers more precise driving directions, right to your front door! This is helpful for businesses in large shopping centers where your street address is shared by many businesses. Your business will stand out from the rest with Google Street View.
Feature Your Business On Google Maps. It's easy.
There's only a one time fee for the photography session. Google does not charge for the listing. There are no recurring charges. Your updated listing with the See Inside 360 virtual tour will automatically appear on Google Maps after the photo session is approved by Google. Google does all the work. There's no need to pay a web designer or consultant to have a Google Maps Business View virtual tour. Plus all the photographs we shoot are yours to keep and use as you wish.
You can trust photographer, Mark Susman's artistry and expertise to make your business look its best. Mark Susman has undergone rigorous training and qualification by Google to be certified as a Google Trusted Photographer. We have package deals for every size business. Have questions? Don't delay. Give Mark a call today. Ph: 713-622-5620 or email