Embedding the Google Street View virtual tour on your website is a feature included with your virtual tour. Not only is it free, Google encourages its customers to share their tours in as many places as they wish.  The possibilities are endless. The payoff is priceless.
Locating your embed code just got a whole lot easier using the new and improved Google Maps. Just follow the easy steps I outlined below.
If working with HTML code stresses you out, you can now relax. Houston360Photo offers expert tour embedding with SEO and Google My Business consultation at very reasonable rates. As always you're welcome to call or email me with your questions. I look forward to seeing your tour live on your website!
Step 1: Search for your business on Google Maps.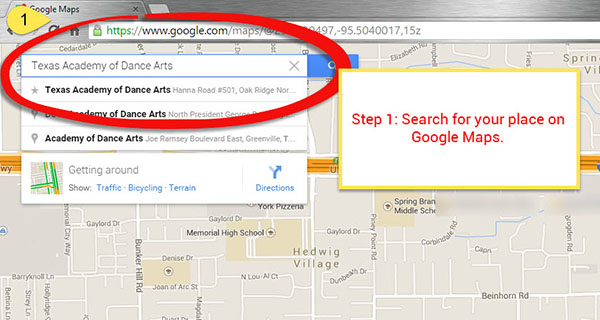 Step 2: Click the See Inside thumbnail to open the virtual tour.
Step 3: Click the vertical ellipsis in the tour info box. Select "Share or Embed Image."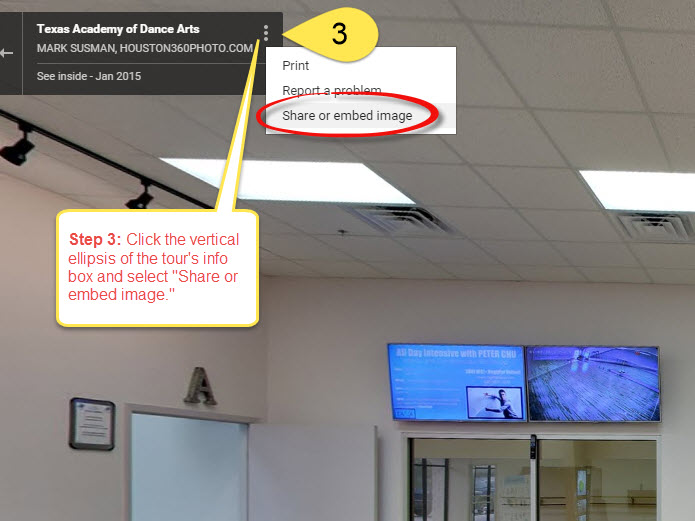 Step 4: You have the option to share the link or create the html embed code.
Click on "Share"  if you want to share the link to your tour on Google Maps.
Select "embed image" to embed the tour on a webpage. Call me if you need help embedding the tour in your website.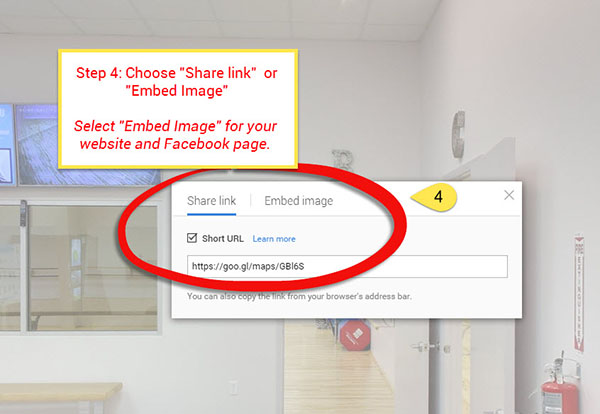 Step 5: Choose where the tour will start.
When you click  "Embed Image" your virtual tour will open in this window.  The embed code will sync to the camera view seen in this window. Use this window to move around and select the starting point for the embed code.
Steps 6 & 7: Select the Size and Copy the Code
Experiment with different sizes. Your website and Facebook page may have different size requirements. The Small, Medium and Large defaults work in most situations. The custom size works best for bootstrap and parallax designed websites.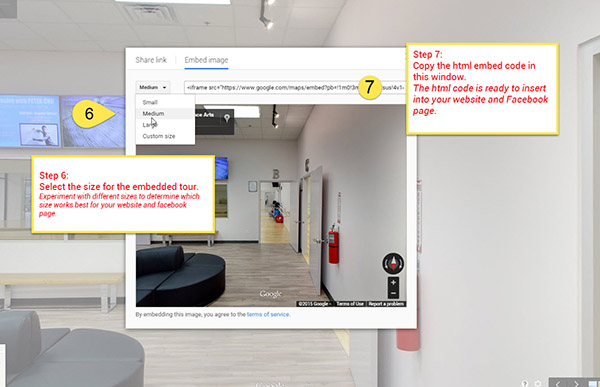 Step 8: Let the Panos do the selling.
A panorama virtual tour is a customer friendly, inexpensive upgrade to your website.  Many businesses embed panos on several pages using  different views of the tour to highlight the various services offered. There's no limit how many embedded panos you can use.